Where to Buy Katydids Candy?
We've got 'em! Kathryn Beich Original Recipe Katydids Candy Combining together soft, buttery caramel, whole fancy pecans and melt-in-your mouth chocolate.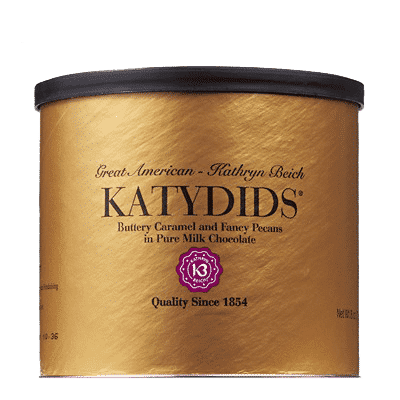 NEED SOME HELP DECIDING?
Contact us for assistance quickly and easily
ARE YOU A KATHRYN BEICH KATYDIDS FAN?
Join the community and share your Kathryn Beich memories
Read our exclusive stories from people like you
Kathryn Beich Katydids: Formerly known as, Beich Candy Company, are the distributor of sweets and chocolate products through the fundraising channel. The company distributes confectionery
Read More »
Katydids Candies; There to Serve. No introductions are needed for this highly treasured food, Katydids Candies. An organic chocolate, has now unveiled its's packaging in
Read More »
Katydids Candy is a snack that has been a favorite across America as a much tastier version than its counterparts. In other words, this is the original chocolatey, buttery caramel treat.
Read More »
You Can Find Katydids Candy From Our Shops
Do you have questions about our original Kathryn Beich Katydids ?
Send us your contact information and we will have someone contact you now!